About Private Tours
Private tours are tailored to suit your needs. If you want in depth 1 to 1 instruction with your camera or just want an experienced photographer help you to discover and capture the most photogenic locations, then this is the tour for you. 
I will plan the tour with you to ensure you'll be working in the best photographic contexts, with the right subjects the right light and at the best possible time for you to achieve the best results.
- Price: 50€ / hour / pax
- You can bring one friend without any extra fee
- Small groups allowed (up to 4 pax)
Possible Tours
Introduction to photography. Intensive!
- For those that are starting in photography and want to step up quickly. It's intensive!
- Location will be decided by me so that I can maximize the learning experience.
- 3h minimum
Custom Tours
- Customized tours tailored to suit your needs. It's a tour that can be fine-tuned to emphasise specific opportunities. 
- You can choose from an early morning daytime tour, evening tour or combine both with a late afternoon tour lasting into the evening.
- 4h minimum duration (excludes travel time that might be required)
SOBRE OS TOURS PRIVADOS

Os tours privados são feitos à medida das suas necessidades. Se deseja o acompanhamento de 1 para 1 com a sua máquina fotográfica ou apenas quer que eu o ajude a descobrir e captar os locais mais fotogénicos, então este é o tour para si. 
Planearei a visita guiada consigo para garantir que irá fotografar nos melhores contextos fotográficos, com os temas certos, com a luz certa e no melhor momento possível para que possa alcançar os melhores resultados.
- Preço: 50 euros / hora / pax
- 
OFERTA DE VALE
no
valor
de
30 EUROS
a descontar no preço final (o
ferta válida para residentes em Portugal)
- Pode trazer um amigo sem qualquer taxa extra
- Permitidos pequenos grupos (até 4 pax)


TOURS POSSÍVEIS
Introdução à fotografia. Intensivo!
- Para aqueles que estão a começar na fotografia e que querem avançar rapidamente. É intensivo!
- A localização será decidida por mim para que eu possa maximizar a experiência de aprendizagem.
- Mínimo 3h
Tours Personalizados
- Tours personalizados à medida das suas necessidades. É um tour que pode ser ajustado para privilegiar oportunidades específicas. 
- Pode escolher entre um passeio de manhã cedo durante o dia, um passeio noturno ou combinar ambos com um passeio ao fim da tarde que dura até à noite.
- 4h de duração mínima (exclui o tempo de viagem que possa ser necessário)
Sintra-Cascais Natural Park Tour
- For the coast lovers or long exposure fans, this late afternoon tour lasting into the evening is a great option
- 4h minimum duration
Tour Parque Natural Sintra-Cascais
- Para os amantes da costa ou adeptos de longa exposição, este tour ao fim da tarde que dura até ao final do dia é uma ótima opção
- Duração mínima de 4h
Lisbon Highlights Tour
- Get to know some of the best locations in Lisbon to photograph. You will have the opportunity to discover the most iconic places and unique streets of Lisbon. You can even take one of the most famous postcards of the city photographed by me 😉.
Check it out!
- You can choose from an early morning daytime tour, evening tour or combine both with a late afternoon tour lasting into the evening
- 4h minimum duration
Tour Destaques de Lisboa
- Conheça alguns dos melhores locais em Lisboa para fotografar. Terá a oportunidade de descobrir os lugares mais emblemáticos e as ruas mais singulares de Lisboa. Poderá até levar para casa um dos postais mais famosos da cidade fotografados por mim 😉
Veja aqui
!
- Pode escolher entre um passeio de manhã cedo, um passeio noturno ou combinar ambos com um passeio ao fim da tarde que dura até à noite
- Duração mínima de 4h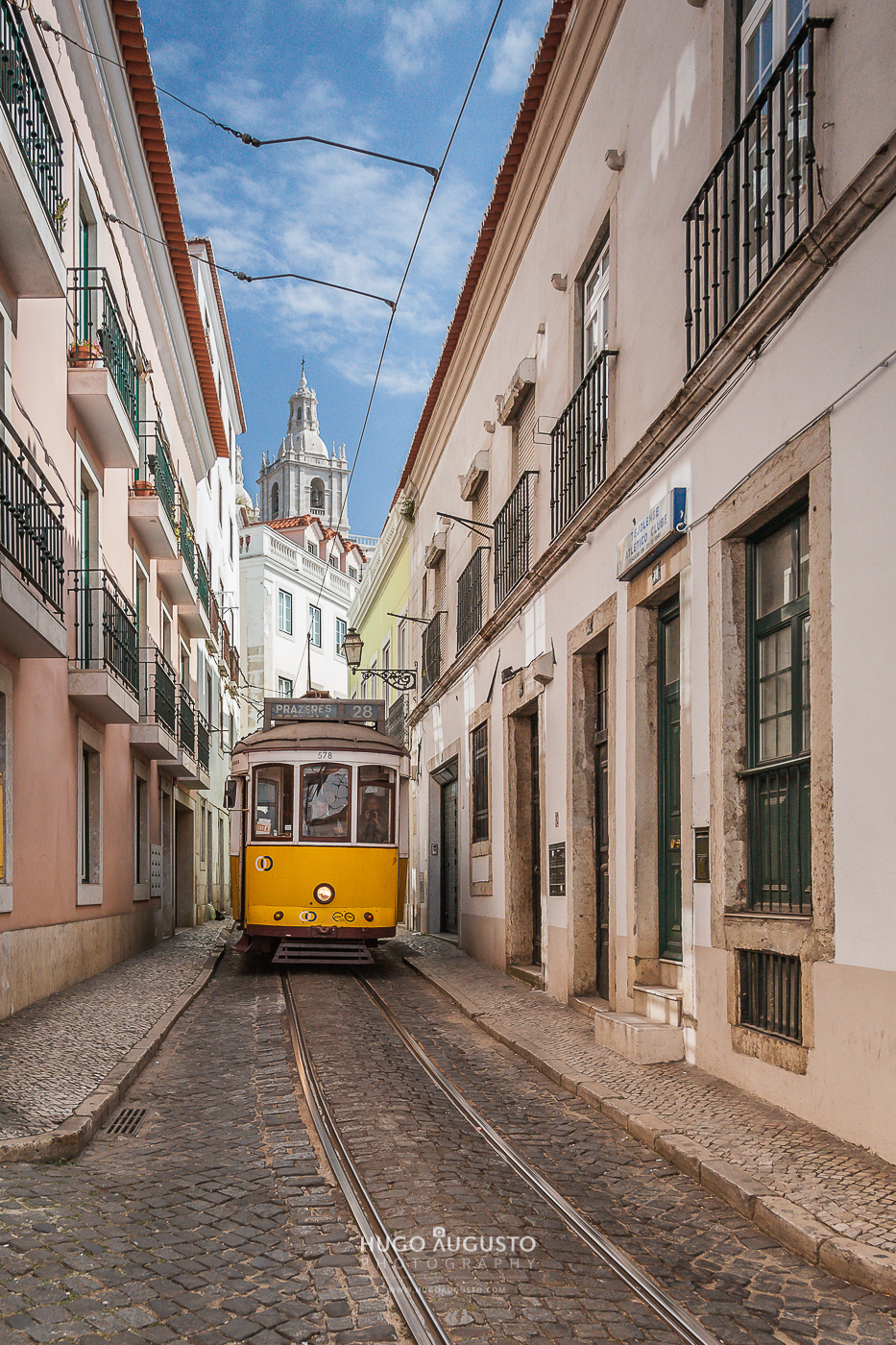 Carrasqueira Magic Tour
- Get to know the Palafítico da Carrasqueira Pier, one of the most visited places in the Alentejo region. This masterpiece of popular architecture, erected in the 1950s and 1960s, is unique in Europe and is built on irregular, apparently fragile wooden piles, which serve as a pier for the fishing boats that dock there. A tourist attraction, the pier still fulfils the mission for which it was built: to allow fishermen access to the boats, even during low tide.
- Late afternoon tour lasting into the evening
- 4h minimum duration (includes 40m travel)​​​​​​​
Tour Carrasqueira Mágica
- Fique a conhecer o Cais Palafítico da Carrasqueira, um dos locais mais visitados da região do Alentejo. Esta obra-prima da arquitetura popular, erigida nas décadas de 50 e 60, é única na Europa e está construída em estacas de madeira irregular, aparentemente frágeis, que servem de embarcadouro aos barcos de pesca que ali acostam. Ponto de atração turística, o cais continua, ainda, a cumprir a missão para que foi construído: permitir o acesso dos pescadores aos barcos, mesmo durante a baixa-mar.
- Passeio ao fim da tarde que dura até ao fim do dia
- Duração mínima de 4h (inclui 40m de viagem)
What's Included in the Price?
Included
- You will be guided with an experienced photographer
- I will spend time teaching you the basics of photography if required
- Cover a variety of photographic techniques if required
Not Included
- Meals or refreshments
- Entrance fees (if required)
- Tips or gratuities
- Travel unless specified
What to Bring?
- Comfortable pair of shoes
- A bottle of water and a couple of snacks
- Suitable clothing according to the weather
- Extra money in case you need to buy something
- Your camera, a tripod, memory cards and fully charged batteries!
Terms and Conditions
When booking a tour, you agree to the following conditions:
Cancellation Policy:
All payments and deposits are non-refundable unless the tour does not go ahead due to circumstances I caused. In this situation I will refund your money minus processing fees.
Tours fully paid for in advance can be re-arranged free of charge as long as at least 48 hours notice is given. If this period is not respected, re-booking will be subject to the full price.
O QUE ESTÁ INCLUÍDO NO PREÇO?
Incluído
- Será guiado por um fotógrafo experiente
- Se necessário, passarei algum tempo a ensinar-lhe as noções básicas de fotografia e algumas técnicas fotográficas
Não Incluído
- Refeições ou bebidas
- Taxas de entrada (se necessário)
- Viagem, a menos que esteja especificado
- Calçado confortável
- Uma garrafa de água e algo para comer
- Roupa adequada de acordo com as condições meteorológicas
- Dinheiro extra no caso de necessitar de comprar algo
- A sua câmara fotográfica, um tripé, cartões de memória e baterias totalmente carregadas!
Ao reservar um tour, está a concordar com as seguintes condições:
Política de cancelamento:
Todos os pagamentos e depósitos não são reembolsáveis, a menos que o tour não se realize devido a circunstâncias causadas por mim. Nesta situação, reembolsar-lhe-ei o montante pago na totalidade.
Os tours totalmente pagos antecipadamente podem ser remarcados sem encargos, desde que seja dado um pré-aviso mínimo de 48 horas. Se este período não for respeitado, a remarcação estará sujeita ao preço total.
João Castanheira, Portugal - http://jcastanheira.com/
"I always liked photography. I did more street and travel photography. However when I decided to dedicate myself to the landscape and start making long exposures, many doubts arose. What filters to buy, how to do, and especially how to capture the moment. As I still had many doubts, I decided to do a 3h workshop with Hugo. We agreed at Cabo Raso and I explained to Hugo my difficulties. 
During 3h I learned how to use the filters correctly and when to use them. We also discussed the composition, guiding lines and the importance of light, which is one of the things I give more importance to when trying to photograph. We tested several compositions and discussed what worked and what didn't and why it didn't work. 
Deep down those brief 3 hours became quite important and gave a valuable help, not only for landscape photography but for other photo styles that I also like. From that day on I started to approach photography in a completely different way and with more sense.
Thank you very much Hugo Augusto for the help you have been giving me from that day".
"The area I like the most in photography is landscape.
At the beginning of the first photographic outings when I got home and I noticed that I didn't like the results obtained, it led me to realize, that I had some weaknesses and lack of knowledge to obtain better results.
It was then that I started to frequent tours that helped me to have a faster progression and get the results I liked the most.
Although there are several tutorials on the Internet, nothing like field experience, with trainers who know what they do.
I highly recommend the experience of one or more tours with Hugo Augusto. Long live the photography 😉"
João Castanheira, Portugal - http://jcastanheira.com/
"Sempre gostei de fotografia. Fazia mais fotografia de rua e de viagem. No entanto quando resolvi me dedicar à paisagem e começar a fazer longas exposições, muitas dúvidas surgiram. Que filtros comprar, como fazer, e principalmente como captar o momento. Como ainda tinha muitas dúvidas resolvi fazer um workshop de 3h com o Hugo. Combinamos no cabo Raso e expliquei ao Hugo as minhas dificuldades.
Durante as 3h aprendi a usar corretamente os filtros e quando os usar. Também abordamos a composição, linhas-guia a importância da luz que hoje em dia é uma das coisas que dou mais importância quando tento fotografar. Testamos várias composições e discutimos o que funcionava e o que não funcionava e qual o motivo de não funcionar. 
No fundo aquelas breves 3 horas tornaram-se bastante importantes e deram um valente ajuda, não só para a fotografia de paisagem como para outros estilos de foto que também gosto. A partir desse dia comecei a abordar a fotografia de uma forma completamente diferente e com mais sentido.
Muito obrigado Hugo Augusto pela ajuda que me tens vindo a dar deste esse dia."
Rodrigo Alagôa, Portugal - Página de Facebook
"A vertente que mais gosto na fotografia é a de paisagem.
No início nas primeiras saídas fotográficas quando chegava a casa e verificava que não gostava dos resultados obtidos, levou-me a perceber, que tinha algumas lacunas e falta de conhecimento para obter melhores resultados.
Foi então que comecei a frequentar tours que em muito me ajudaram a ter uma progressão mais rápida e obter os resultados que mais me agradavam.
Embora existam vários tutorias na Internet, nada como a experiência em campo, com formadores que sabem o que fazem.
Recomendo vivamente a experiência de um ou mais tour`s com o Hugo Augusto. Viva a fotografia 😉"
Muito obrigado pelo seu contacto! Entrarei em contacto brevemente.Thank you for contacting me! I'll get in touch with you soon.